News Archive: 2004 Headlines
2005 Wildwater Team Trials
Dec 21, 2004
The Nantahala Racing Club (NRC) has signed Carolina West Sports Medicine of Sylva, NC as title sponsor for the 2005 Wildwater Team Trials, March 5th and 6th 2005 on the Nantahala River.
Now is the Time!!!
Oct 22, 2004
Put your plans together for next year and act on those plans.
2003 Wildwater World Cups Video
Oct 2, 2004
"Wild West Wildwater" is the exclusive documentary about the ICF's 2003 Wildwater World Cups, held in the Western USA on the Kern River in June of 2003.
Changes to the USA Wildwater Bylaws
Oct 1, 2004
USA Wildwater is in the process of updating our bylaws. We request that you review the changes and give your feedback to John Pinyerd, Chairman, no later than October 31, 2004.
Call for Venue Bids: 2005 Team Trials
Aug 9, 2004
Bids are sought from organizing committees to host the 2005 US Wildwater Team Trials, East Coast US Wildwater Junior Team Trials and West Coast Wildwater Junior TeamTrials.
2004 Southeasterns
Jun 14, 2004
The Classiest of Classic Wildwater Races - The 36th Annual Southeastern US Wildwater Championships.
Thank You Sponsors!
Jun 9, 2004
USA Wildwater Appreciates The Support Our Sponsors Provide... Readers, Please Take a Moment to Read This Article.
Outdoor Inc - Canoe/Kayak Race
May 10, 2004
USAWildwater Treasurer and K-1 Team Member Chris Hipgrave describes his own rite of spring, the 23-year-old downriver race on the Mighty Mississippi.
Great Week of Racing in Pennsylvania
May 10, 2004
The Red Moshannon Race attracted 162 boats in 2004... USAWildwater K-1 Team Member Geoff Calhoun shares race highlights & results.
Wildwater US Open
Mar 21, 2004
USAWildwater Chairman John Pinyerd describes great weekend of whitewater racing.
2004 Cedar River Race Results
Mar 4, 2004
USAWildwater C-1 Team Member Tom Weir lists highlights and results from the First Races of the 2004 Northeat Whitewater Cup.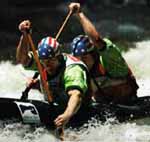 USAWildwater.com is dedicated to bringing you the most up-to-date information on wildwater racing on the international, national and local scenes. But we need your help.
If you are actively involved in local races, please consider submitting an article on the race results or news in your area affecting wildwater.
It will help athletes in your region gain well-deserved recognition for their efforts and get more racers to more actively participate in our sport.