USAWildwater.com your source for the best in downriver action!
French Training Plan (2001-2002)
SOURCE: Christian Processe, French National Team
Click on the months above for plan details
Mid March: Preparing for competition

Example of hard week:
2 x Weight Lifting
Explosive at 50% Max
5 x Paddling

2 x (5 x 1'on 2'off) with resistance (2 x a week)

4 x 10'on 3'off on whitewater

7 x 3'on 2'off on whitewater

1 x long paddle (1.5 hrs min)

2 x Technical workout (See above)

1 x Aerobic Capacity

1 x Running or Biking

Go for a little more speed

Example of easy week:
4 x Paddling
1 x Time Trial

1 x Resistance

1 x Aerobic Capacity

1 x Long

1 x Running or Biking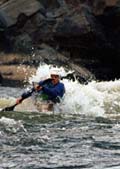 American Heinz Roethemund hammers down the Potomac at a 2000 Bethesda Center of Excellence training camp.

French National Team Member Christian Processe goes for speed at the 2000 Worlds in Treignac, France.
Copyright 2002 USAWildwater.com