USAWildwater.com
Each of us has felt passionate about one thing or another -- something that drives us toward higher achievement, tests our mettle as human beings, and provides an arena for excellence. We have found our arena in Wildwater.
USAWildwater News: Information is power.

This news service is free! Sign up now for free email updates from our news desk.
USA Turns in Solid Results at the
Enza International Races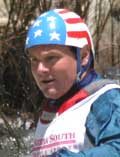 by
John Pinyerd
USA Canoe/Kayak
Wildwater Committee Chairman
jpinyerd@usawildwater.com
April 11, 2010 -- Marietta, GA
Congratulations are in order for Maurizio Tognacci who raced for the USA this past weekend at the Enza International races. In spite of being a master's racer Maurizio had very impressive places of 25th and 27th (which represent the USA's best finishes at this event).
Maurizio has served as a consultant/coach for USA Wildwater and our head coach for the Junior Team since 2005. He has meddled for the USA in international master's competition in 3 (out of 3) races.
Links to results: