USAWildwater.com
Each of us has felt passionate about one thing or another -- something that drives us toward higher achievement, tests our mettle as human beings, and provides an arena for excellence. We have found our arena in Wildwater.
USAWildwater News: Information is power.

This news service is free! Sign up now for free email updates from our news desk.
NRC 2010 Glacier Breaker Wildwater Race
Wrap-up and Results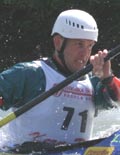 by
Chris Hipgrave
USA Wildwater
Committee Vice Chair
hipgrave.chris@gmail.com
February 27, 2010 -- Bryson City, NC
They call it the Glacier Breaker for good reason. The mid-Atlantic crew that was coming down got snowed in and the more local of us that did get to race had to deal with moderate head winds and frigid temperatures that really numbed the hands and made moving downstream even harder that it needed to be.
We had some break-thru performances today. JP Bevilaqua handily won today besting his time from last year by almost a minute. He's been working really hard at wildwater and deserves the win. He's also poised for a solid performance at Team Trials in a month. Tierney O'Sullivan also crushed her 2009 time by close to a minute to finish 3rd overall.
We were also graced with some new young faces making a big splash in the sport. Team Popp arrived in force with Hailey and Selena Popp have great times and showing great potential for years to come. The C2 Popp team also had a great race down to the Nantahala Falls where the harder whitewater got the better of them. They'll be back for trials which is great news.
Results:
CLASS
NAME
BIB
TIME
% IN RACE
K1
OPEN
JP BEVILAQUA
17
20:03.0
100.00%
K1
OPEN
CHRIS HIPGRAVE
18
20:40.0
103.08%
K1W
OPEN
TIERNEY O'SULLIVAN
7
22:37.0
112.80%
K1
MASTER
BERN COLLINS
11
23:44.0
118.37%
C1
OPEN
JOHN PINYERD
10
24:17.0
121.11%
K1W
JR
HAILEY POPP
3
24:19.0
121.28%
K1
OPEN
BEN EDSON
15
24:26.0
121.86%
K1
OPEN
STEVE KIMMEL
14
24:32.0
122.36%
K1W
OPEN
LANE ERRICKSON
5
25:16.0
126.02%
K1W
CADET
SELENA POPP
4
26:19.0
131.26%
C1
OPEN
KEVIN MILLER
8
27:12.0
135.66%
K1
OPEN
JAY MANALO
12
29:37.0
147.71%
C2
JR/SR
COLTON POPP/ BRYSON POPP
1
DNF