USAWildwater.com your source for the best in downriver action!
USAWildwater News: Information is power.

This news service is free! Sign up now for free email updates from our news desk.
Teva Games Goes Wild (WATER)!
(Reprinted from Jeremy Rodgers' Blog)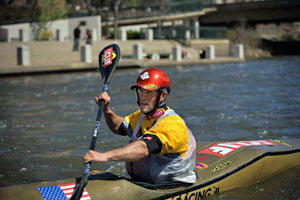 by
Jeremy Rodgers
USA Wildwater
Board Member and
Sponsor Liason
June 9, 2009 -- Vail, CO
Thanks to a last minute deal with Nick Rader at Teva Games (www.tevagames.com), USA Wildwater sent a hungry group of 9 wildwater paddlers to do a exhibition race as part of the Bud Light Downriver Race in Vail, Colorado alongside some of the best kayakers in the US including Tao Berman, Pat Keller, Andrew Holcombe, and 100 other fun-having sprint entrants. We were super impressed with the huge number of participants, spectators, and even more impressed with the spot on laser timing system. Perennial wildwater powerhouse Chris Hipgrave (seen below hanging out with Heather and I) of Bryson City, NC won the overall with a solid 15:03 with most of the remaining wildwater field within a tight 20 seconds.
Gore Creek, no wider than a cow's broad side, rages right into Vail Village and was busy with lots of boogie water and channelized drops. Our 14 foot carbon kevlar boats don't exactly turn on a dime so our hearts were pumping harder than ever in what seemed like an alpine luge at 50 mph more than a downriver kayak race. Trees, low bridges, and spectators were coming at us like asteroids as we ducked, dodged, and boofed for our way down the course (see video clip below) in just over 15 minutes. The short boat division winners finished in an impressive 17.50 minutes with the Dagger Green Boat holding it's throne as king of the plastic boat class. Post-race chumming followed with stories of dry heaving in the bushes, low bridge collisions overhead, and lots of eddy outs on the squirrely course. I even caught an eddy overtaking another paddler and gave myself a 30 second/10 point turnabout detour but all is fun on a race like this leading up to team trials.
See the great video footage from the starting line from the HeroCam mounted on kayak bow...crazy perspective and you can see why we love our sport! Yes, we really were having to duck and time our strokes to clear the bridges overhead and get the boat back up to speed immediately past. Great high water this year!
Below, nothing better than a few warmup attainments upstream to get the heart pumping! Can't say enough about how perfect the Immersion Research layers perform in Colorado's freezing spring runoff!
Special thanks to Nick Rader with Teva Games for his special accomodation hosting the wildwater paddlers in Colorado for national team trials in 2 weeks. Teva Games remains king of the whitewater mountain festivals and we look forward to returning formally for a US Wildwater team trials event on the same course in future years!
(Editor's note: You can find Jeremy's blog at http://www.jeremyrodgers.blogspot.com/)