May 19, 2007 -- Marietta, GA
Some of my fondest memories of wildwater training and racing are with Michael Beavers. While I'm sorry to say that Michael has completely exited the sport as a racer (due to a shoulder injury) he has left a wonderful legacy behind.
Michael's last act of a racer was to donate all of his gear to USA Wildwater. His repair kit will make an excellent foundation for the USA Junior Team World Championship repair kit. The remaining gear is being sold at bargain prices to raise funds for USAWildwater (see www.usawildwater.com/equipment.html for the complete list of equipment and suggested donation amounts). Suggested donation amounts are 1/2 for Juniors who are committed to training.
Michael who was a very accomplished boater kayaker and c-boater prior to coming into wildwater made the transition to wildwater very quickly. He quickly settled into racing C-1 because he loved the challenge and the art that it takes to master the boat.
Michael made his first mark on the sport at the Deerfield Nationals in 1995 when he placed 4th just a few seconds behind a very competitive field of Lyda, Pinyerd and McEwan. By 1997 Michael had hit his stride and became just a few people to win USA Nationals in more than one class (C-1 and C-2). He was one of our top racers on USA Teams between 97 and 01.
Michael is the founder and original designer of our website www.usawildwater.com. His eye catching layouts and color schemes are still in use today. Michael is also a major reason I got back into the sport of Wildwater after a 5 year sabbatical. Michael insisted that I should try my hand at making the team again and not forgo the opportunity to race at the 2003 World Cups in CA, and helped provide the gear to get me started again. And I will always be grateful.
Michael, you will be missed!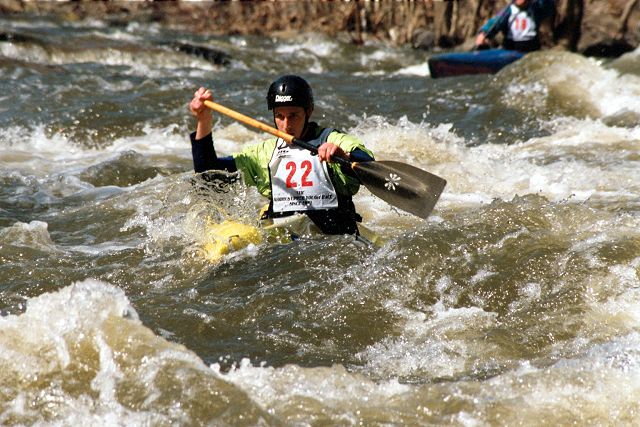 Michael Beavers at the 2001 Tram Trials on the Tohickon
(Photo by Emmy Truckenmiller)
(George Lhota is in the background)