USAWildwater.com your source for the best in downriver action!
USAWildwater News: Information is power.

This news service is free! Sign up now for free email updates from our news desk.
Join/Renew Your USACK Membership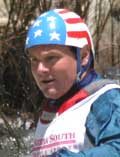 by
John Pinyerd
Chairman - USA Wildwater
jpinyerd@usawildwater.com
September 21, 2005 -- Atlanta, GA
NOW is a Great Time to Join/Renew Your USACK Membership.
With the upcoming Wildwater Elections this fall and a full slate of USA Canoe/Kayak Sanctioned Races on tap for 2006, now is a great time for you to join USA Canoe/Kayak (the governing body for Wildwater and racing in the USA). Here's just a few reasons:
USACK Membership is required to nominate anyone, vote, or to serve as a board member on the Wildwater Committee
USACK members do not have to pay for event/race insurance at USACK (or ACA) sanctioned events. With individual event membership (for insurance) now costing $10 for each race it does not take long to repay the cost of annual membership. Please keep in mind that in 2006, USA Team Trails and Nationals will be USACK sanctioned events.
USACK membership will likely be required for all Wildwater training camp participants in 2006.
USACK membership is a requirement for all international competitors.
Links: