August 13, 2002 -- Fayetteville, WV
The mighty New River Gorge played host to one of the most memorable National Wildwater Championships in U.S history. Team members and others racers gathered from across the country to compete for the most coveted title in America. The athletes benefitted from superior organization, unprecedented corporate sponsor support and a little help from Mother Nature, who filled the gorge with plenty of big water during the weeks leading up to the race.
See the results here!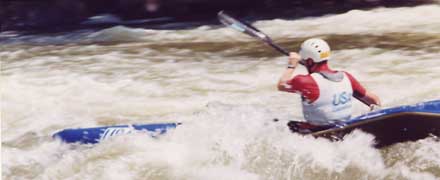 2002 National Champion Chris Hipgrave, who placed third in the sprints at Fayette Station Rapid,
dominated the afternoon's classic event to win the title.
(photo © 2002 Michael Beavers)
In a particularly tight Men's K-1 class, Chris Hipgrave emerged the victor after placing third in the sprints. Slalom star Scott Mann dominated in the morning sprints, and Simon Beardmoore, second overall, placed consistently fast times in both events.
In Women's K-1, Jamie Tidwell, another slalom standout and doting mother of a standard poodle, emerged as National Champion based on her strong sprinting ability and incredible whitewater ability, followed closely by Jennie Goldberg of Seattle and local favorite Colleen Laffry who took the bronze medal. 2002 Junior National Champion Beth Karp joined the senior women's event and just missed the bronze by hundredths of a percent.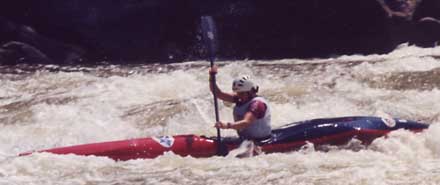 Jamie Tidmore wins the Women's event. (photo © 2002 Michael Beavers)
The C-1 class saw Bob Bofinger winning the nationals, after veteran Michael Beavers was sidelined with an injury during training runs. Perhaps the race's biggest dark horse was Mike Beck, former 24-hour distance world record holder, who brought his canoe from New Jersey and placed for the silver.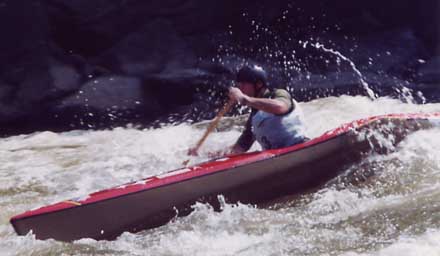 Bob Bofinger sprints down Fayette Station rapid. (photo © 2002 Michael Beavers)
America's Junior men also fared well on the course, with Joe Barkley winning the event. Clay Wilder was a close second, with Tyler Dyer even closer on Clay's heels. In future events, we may see tighter contests with the U.S.'s young K-1 guns.
The hapless Michael Beavers, who dislocated his shoulder for the second time this year, was joined by wildwater newcomer J.P. Bevilaqua, who also suffered a dislocation. Since they could not race or train for the remainder of the week, the two strolled around town with matching arm slings, inventing contests for how many wry comments or questions either could draw from the citizens of West Virginia. At the time of this article, no details were available regarding which athlete won that particular contest
All of this would not have come off half as successfully as it had if not for the remarkable organizational efforts of Donnie Hudspeth and Mark Joffe. They are outspoken advocates for Wildwater racing and have great visions for what it could become.
---
Michael Beavers is editor of USAWildwater.com and a C-1 Wildwater athlete training in Atlanta, GA. Reach him at michael.d.beavers@gmail.com.