August 10, 2002 -- Bala, Wales
This year's Wildwater Junior World Championships in Bala in the Snowdonia region of north Wales was probably the most fun and best-organized world class event I've ever attended. Perhaps it was being able to participate not as an athlete, but rather as a team leader. The pressure was still there, but it was a different kind of pressure. This time, all I had to do was drive the shuttle and go to a few meetings. The rest was up to the team, and this year's team performed admirably.
Our 2002 Juniors were a diverse group in age, experience and ability. Half of the team were graduates of Scott Overdorf's whitewater program at The Alexander Dawson School in Boulder, CO, and qualified at the Western Junior Team Trials on the Roaring Fork near Glenwood Springs. The other half of the team came from east of the Mississippi, and qualified on the Lower Yough in Pennsylvania. Individually, our 2002 USA Wildwater Junior Team consisted of:
C1 - Aaron McDonald, 18, Longmont, CO
C2 - Tom Gray, 16, Boulder, CO, and Dan Smith, 15, Longmont, CO
K1W - Beth Karp, 17 (turned 18 four days after the race), Potomac, MD
K1M - Joe Barkley, 18, Bryson City, NC; Nic Borst, 15, Boulder, CO; Tyler Dyer, 16, Huntsville, AL; Clay Wilder, 16, Rockford, AL
The weekend event consisted of several races, including fifteen-minute classic World Championship competitions in both individual and team events on Saturday, a two-run individual Sprint World Cup race on Sunday, and various minor fun runs for the locals and for the "elderly" team leaders. The top three finishes in the classic race were taken by Czechs and Germans in C1, Germans and Slovaks in both K1W and C2, and by Brits, Germans and Slovaks in K1M. Official results are available at www.juniorworlds.info. While the US didn't bring home any medals this year, we did have an impressive show of boat handling and guts.
In K-1 Men, veteran Joe Barkley, who also qualified to race in Europe as part of the men's senior Team, had the best U.S. time, placing 37th out of 45 in the Classic, and 33rd out of 45 in the Sprint races. Joe raced in Bala in last year's World Cup race, so was somewhat familiar with the river. Although logistically too far away to spend the time necessary to win the race (rumor has it that K-1M winner Jonnie Schofield of the UK has run the river over 1,000 times), Joe did have the advantage of having raced in international competitions several times over the past few years. His experience obviously paid off.
Tyler Dyer shakes off a rocky drop.

(photo © 2002 Tiana Banks)

Tyler Dyer & Clay Wilder, both of Alabama, and both having raced here in 2001, finished within ten seconds of each other in Saturday's World Championship Classic Race, with Tyler taking the winning time. On Sunday, however, the roles were reversed as teammate Clay grabbed the lead, finishing 40th, while Tyler came in 44th. Again, however, the two were only five seconds apart. Neither seemed particularly hampered by the unfortunate luck of having their boats arrive two days behind them, due to an airline glitch.
Our true kayak hero, though, was fifteen-year-old Nic Borst who had all of about four months of whitewater experience under his belt. Completely confident in the lower class two section of the river, Nic was a bit out of his league in the upper section of Class III+ rapids. After a couple of days, he traded in his tippy composite kayak for a Wavehopper loaner from the local canoe center. Nic pushed hard to finish Saturday's classic event, but opted out of another try through the rapids on Sunday.

Beth Karp of the Washington, DC, area, who has trained regularly with such Wildwater greats as Davey & Cathy Hearn, Lecky & Fritz Haller, and Andy Bridge, finished 17th of 19 on Saturday, a mere eight seconds out of 16th position.

On Sunday, under the gun in the first sprint race, Beth had to swim out of her boat, unable to get it rolled up in the rough rapids section for which the Tryweryn River is so well known. Undaunted, she came back on the second run to place her in 16th position overall.

Alabama's Clay Wilder hammers down the ski jump.

(photo © 2002Tiana Banks)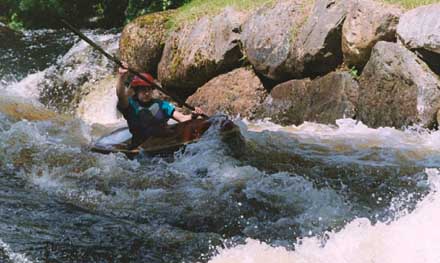 Beth Karp, an entering freshman at Cornell University, shows the crowd how to take a turn in a Wildwater boat.
(photo © 2002 Tiana Banks)
Our canoeists were the hit of the event, showing a crowd of flip-and-swim European fans that you can actually roll these things in whitewater. 6-foot, 2-inch Aaron McDonald came back from a last place finish in C-1 in Saturday's Classic, to finish 16 of 19 in the Sprint Event on Sunday. A true leader of the group, Aaron admitted to never having paddled anything quite this intense, and time and again he'd flip, only to roll back up, always to the delight of the crowd. Newcomers Tom Gray and Dan Smith, also flipped and rolled up several times in the C-2 Classic Race on Saturday. They actually had to borrow a patched-up, overweight training boat from the British Team to race in the World Championships, following a mishap on Friday's non-stops, which tore the entire front of the boat off, and left them sinking in the middle of the Class III rapids.

The three canoeists also saved the day for Saturday's C-1 Team Race, earning the U.S. lots of thanks for the other competitors. Not having three boats in either category, Aaron, Tom & Dan were unable to compete in the team event. Turns out the C-1 event was one country shy of being an official medal event. So Tom & Dan shucked their C-2 and borrowed canoes from the Slovenians, so that they could actually start the race as a U.S. entry, and qualify the other teams to earn medals. All they had to do was cross the start line and then get out, which suited the Slovenians fine, as they didn't particularly want us paddling their nice new race boats all the way down the river.

Aaron McDonald learns about the advantage his 6'2" reach will afford him in senior events. (photo © 2002 Tiana Banks)

Tom Gray and Dan Smith, veterans of the Dawson School racing program, take a deep plunge at the ski jump.
(photo © 2002Tiana Banks)
Overall a great experience for everyone, as evidenced by cheerful attitudes and lots of smiles. A special thanks to the team's volunteer co-leaders Tim Borst, Bill Gray & David Karp, whose help, patience and unwavering positive attitude helped make this an event that each of us would enjoy volunteering for next year.
---
Martin Bay is a former U.S. Wildwater C-2 Team member and this year's Junior Worlds Team Leader. He lives in Atlanta, Georgia and you can reach him at m_bay@bellsouth.net.