USAWildwater.com your source for the best in downriver action!
USAWildwater News: Information is power.

This news service is free! Sign up now for free email updates from our news desk.
Salmon River Race Draws Mix of Americans and Canadians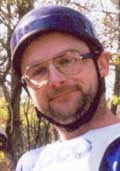 by
Chris Norbury
USAWildwater K-1,
U.S. Wildwater Committee Vice Chair
August 8, 2002 -- Pulaski, NY
July 14th saw the latest version of the longstanding Salmon race, close by the shores or Lake Ontario in Pulsaki, New York. Well organized by Dan Murn, well supported by local businesses and well attended by paddlers from both sides of the border, the event continues to thirve and attract more and more paddlers. This year 23 competitors raced, with 16 of those in wildwater boats or wavehoppers.
The course appears deceptively easy, but narrow lines hidden in the shadows make it difficult to learn, although the consequences of hitting a bad line was generally a scratched boat, rather than a nasty swim. The biggest hurdle in learning the river was a number of moving targets that made life interesting on practice runs. Indeed, some squirt boaters on the river took to trying mystery moves under Scott Leroux's boat during practice, although whether it was by design remains to be established.

At the end of the race young US team member Simon Beardmore had won his first ever race, beating Ted Newton and Canadian Champion Neil Gerrard into second and third respectively. In the exclusively Canadian junior class Creag Winacott took the honors from Paul and Eric van Winssen.

Thanks to Dan Murn for putting on a great race – hopefully we can even more paddlers next year!

K1M JR WW
Creag Winacott 27:52
Paul van Winssen 30.10
Eric van Winssen 30.41

K1M WW
Simon Beardmore 22.42
Ted Newton 22.50
Neil Gerrard 22.55
Harald van Winssen 23.33
Ed Winacott 23.33
Scott Leroux 24.19
Chris Norbury 24.29
Warren Hastings 24.31
Dan Murn 25.24

K1M
Ted VanZandt 31.10
John Foutch 32.28
Jerry Higby 36.57

K1-Rec
Nick Mascioletti 33.41
Loren Maki 34.58
Steve Kieb 38.32
Dan Markusz 41.25

K1M WH
Kevin Howells 27.47
Mike Burns 28.15
Chris Basciani 29.09
Tom Basciani 29.12


---
Chris Norbury is Vice Chair of the U.S. Wildwater Committee and an active race and training camp organizer living in Hershey, Pennsylvania. Reach him at ccn1@psu.edu.