To contact USAWildwater, please refer to the appropriate parties listed below, which include all current USACK Wildwater Committee members. We strive to be an accessible board, and wish to be your active voice for USA Canoe/Kayak (USACK) and the International Canoe Federation (ICF).
Current USACK Wildwater Committee: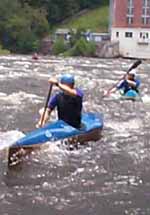 For inquiries regarding this Web site, including subscription information for our free e-zine:
Chuck Brabec
Canvas, WV
webmaster@usawildwater.com
If you are interested in becoming a member of USA Canoe/Kayak, please visit http://www.usack.org for more details. When filling out your membership form, please remember to indicate Wildwater racing as your primary interest.